Professional book formatting services starting at $329
Give your readers a beautiful book to read. Let our professional designers handle the tricky, time-consuming style details. We'll keep your paragraphs pretty, your chapters charming, and your fonts fabulous. Give your book a bestselling look—get beautifully designed interiors for print and digital distribution.
Why go with Elite for book formatting services?
Work with a company that is trusted by thousands of indie authors, including Hall of Famers, presidential nominees, celebrity chefs, and authors like you!
Gain access to a friendly team of creative professionals.
Get careful formatting by an experienced designer familiar with your genre.
Have peace of mind with no hidden costs or royalties.
Get a satisfaction guarantee that is second to none.
Two levels of service to meet your needs
We have a simple interior layout service and a custom interior layout service. Both offer authors a range of templates that have been carefully designed to appeal to readers, adhere to genre standards, and reflect your personal style. If your book is text only (without pictures or other graphic inserts), the simple interior layout service is the perfect choice. The custom interior layout service gives you a bit more flexibility with font choice and decorative accents—and it includes up to ten images.
Elite Authors' book formatting services
A choice of templates to suit different genres and styles
Add-ons to accommodate every type of manuscript, including scientific texts, picture books, and poetry collections
Perfectly laid-out front and back matter
Access to our enormous library of beautiful fonts, chapter titles, and headers
Depending on the service you purchase, an EPUB file and a MOBI file or a beautiful, print-ready PDF that meets CreateSpace's print requirements—or all three!
A quick, ten-day turnaround
I am so pleased with the work Elite Authors did with helping me prepare my first book for publishing on Amazon. The team communicated well, worked timely, and were patient with me being a novice. I loved the work they did with editing, the interior layout, and I love how they incorporated my sketches/ideas into their cover design development. I loved their work enough to request their services for my next book. I recommend them for others seeking services for their books as well!
---
I published my book with another self-publishing company, they closed, and I was stuck with files that couldn't be edited. I then found Elite Authors and got in touch with my publishing consultant. She was patient and understanding and always quick to respond. She understood my problem and immediately offered a solution. Elite Authors quickly redid the interior formatting of my book, and because of them I was able to publish my book without any lost time. I will only use Elite Authors for my future books.
---
Donna Levesque
The cover is beautiful. It's exactly what I was hoping for. The design team also made a book trailer for me to use for marketing purposes, which triggered a lot of favorable feedback from potential readers. I'm grateful I found Elite Authors!
---
Serge Van Themsche
Before and After Examples
Drag circle left and right to reveal.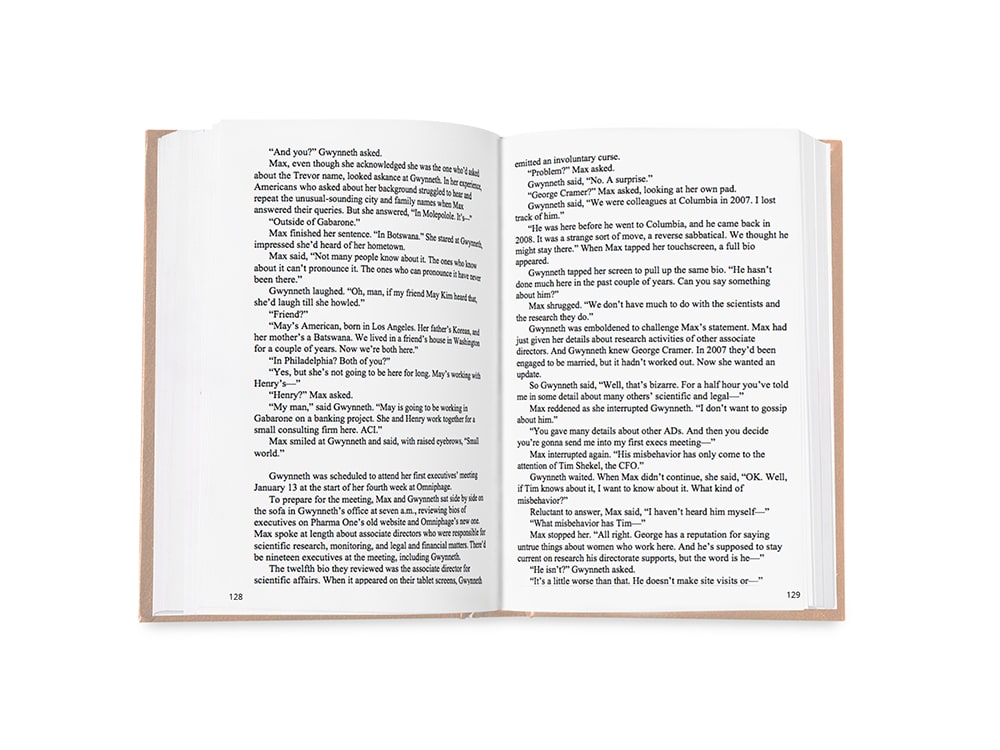 Get beautiful and versatile book formatting and interior layout for print and e-books.
What is the layout of a book?
Book layout may refer to either the page layout design or to the ordering of the three basic elements of a book, which are front matter, body text, and back matter.
What is front matter?
Front matter is the catchall term that describes all the elements of a book that appear before the first page of the first chapter. This includes the title page, half-title page, copyright page, and the table of contents, among others. These elements give readers crucial information, but they are also intended to lead a reader forward to the main text.
What is back matter?
Back matter elements are those parts of a book that follow the main text: author biography, endnotes, bibliography, or index. While all books include at least some front matter, not all books have back matter.
What is page layout design?
Page layout design is the result of careful and artistic choices about page size, font size, margins, paragraphing, and line spacing. Page numbers, chapter numbers, and chapter titles—as well as decorative elements like fleurons—are also part of the page layout design.
How should a manuscript be formatted?
A manuscript, typically a Microsoft Word (or other word processor) document, should be formatted so that it allows authors, editors, and designers to easily work on the text. A manuscript (as opposed to a book, which is discussed below) is a working document—its look does not affect the final look of the published book, so at the writing and editing stages, it's best to use a standard manuscript format.
What is a standard manuscript format?
Standard manuscript format is designed to allow authors and editors to move easily through the revision process, and it usually follows these simple guidelines: Use letter-sized paper with one-inch margins all around. Text should be 12-point Times New Roman and double spaced. Paragraphs should be indented half an inch with no extra spacing between paragraphs. Each chapter should start on a new page. Page numbering is useful at this stage, though there's no need to insert a table of contents until much later.
How do you format a book for publishing?
Formatting a book for publication is far more complicated than formatting a manuscript, which is why it's so important to work with professionals who really know how to format a book. There are many different elements—line spacing, page numbers, table of contents, index formatting, chapter headers, paragraphing, and so on—the nuances of which can make a substantial difference to a reader's enjoyment of your work.
But isn't it easy to convert an MS Word document to a PDF or even an ePub or MOBI file?
It isn't as easy to convert an MS Word document to a readable PDF as it seems, and converting a Word document to an ePub or MOBI file is even more complicated. Each of these formats has some rather complex, unique requirements, and when we format your text, we don't take a one-size-fits-all approach. We provide you with different files that are optimized for different devices and uses.
Get ready to publish everywhere.
Ready to give your book a new look?
Talk to one of our publishing experts and get a free, no-obligation quote.